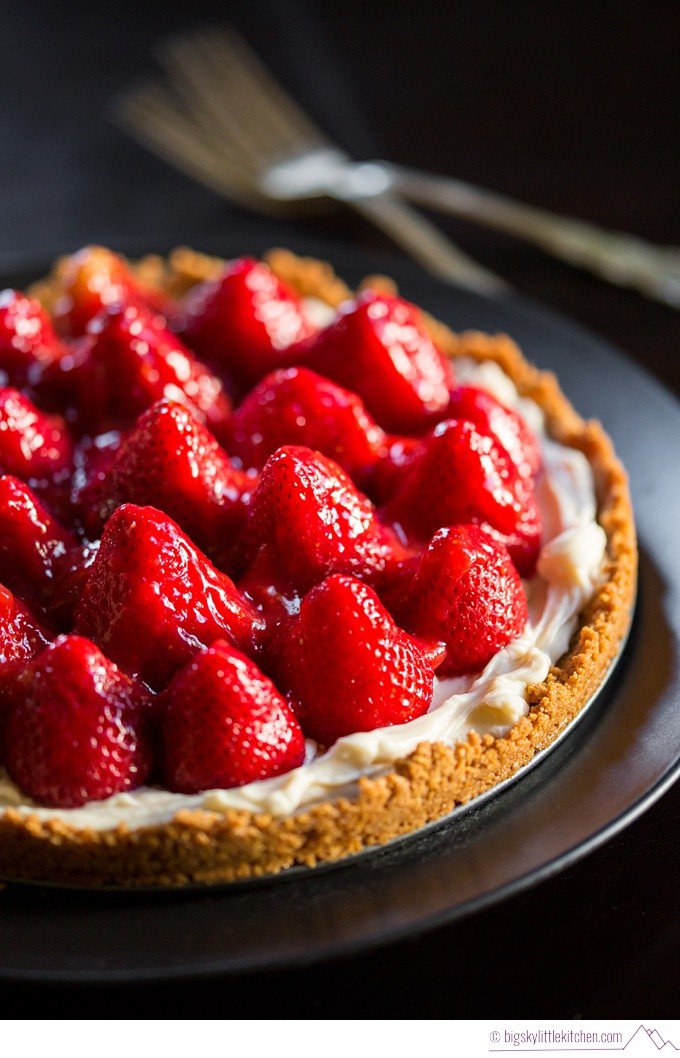 It's currently a sweltering 99 degrees in Missoula at the moment (with 102 degrees predicted for tomorrow – go home, June – you're drunk!), and I find myself craving sweet desserts (as per usual), but nothing heavy, over-involved, or anything that requires much in the way heating up the house with too much oven time. Enter this little star of a summertime dessert: the delightfully light summer strawberry almond cream tart.
It's everything a summertime dessert should be – low on fuss, low on bake time, high on natural summer flavors, and really darn pretty.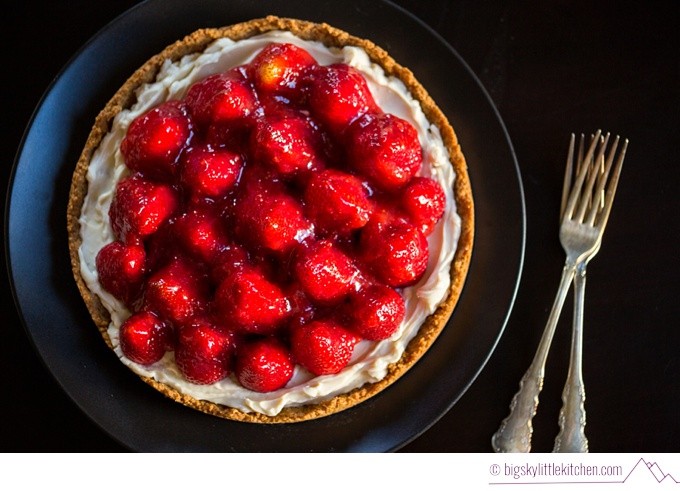 The other nice thing about this tart is that while you can bake it in a pretty tart pan, you don't have to! I am currently tart pan-less, so I always make this in a standard 9″ springform pan. Easy peasy.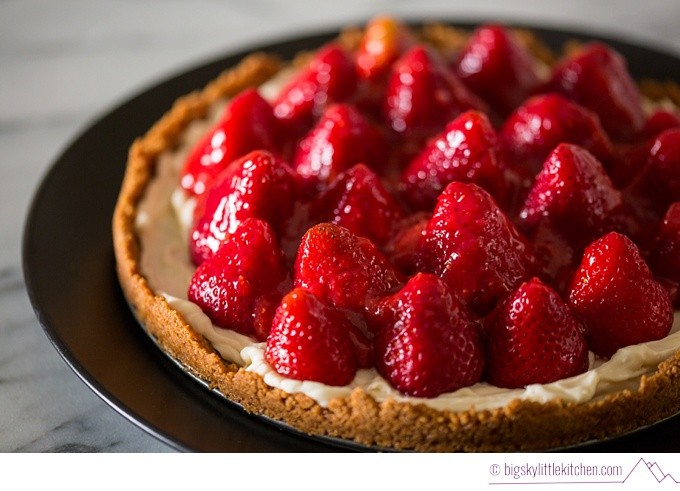 This particular recipe calls for a glaze, which you see in these photos, but you can also serve it without if you'd like and it'll still be just as tasty.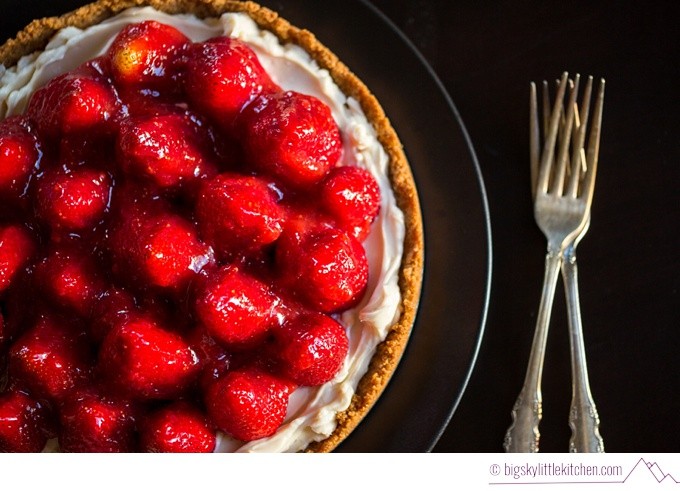 Heck, if you want to Fourth-of-July it up, you could even throw some fresh blueberries in betwixt the strawberries as well. So, make this sweet little dessert for your next get together, stay cool and wow people with your dessert panache. All good in my book!

Summer Strawberry Almond Cream Tart
Author:
Big Sky, Little Kitchen
Ingredients
Crust
9 sheets of honey graham crackers (that's usually one package)
2 tablespoons sugar
2 tablespoons melted butter
4 teaspoons water
Coconut oil (or cooking spray) to grease your pan
Filling
⅔ cup light cream cheese, room temperature
¼ cup sugar
½ teaspoon vanilla extract
¼ teaspoon almond extract
Topping
6 cups fresh strawberries, divided
⅓ cup sugar
1 tablespoon cornstarch
1 tablespoon fresh lemon juice
Instructions
Preheat oven to 350 degrees. Coat your 9-inch removable-bottom tart pan or springform pan with coconut oil or cooking spray.
For the crust, place crackers in food processor and process until fine and crumbly. Add sugar, butter and water and pulse until just moist. Place mixture in pan, pressing into the bottom and up the sides of pan approximately ¾ inch. Bake at 350 degrees for 10 minutes or until the crust is lightly browned. Remove and cool completely on a wire rack.
For filling, combine filling ingredients and stir or mix until smooth. Spread mixture evenly over bottom of cooled tart shell.
Combine 4 cups strawberries and juice and toss to coat. Arrange berries, bottoms up, in a circular pattern over the filling. Serve as-is after covering and chilling for 3 hours, or follow the next set of instructions to prepare the glaze.
For the optional glaze, place 2 cups of strawberries in food processor and process until pureed. Combine the puree, ⅔ cup sugar and cornstarch in a small saucepan over medium heat, stirring with a whisk. Bring to a boil, stirring constantly. Reduce heat to low and cook 1 minute. Remove glaze from heat and cool to room temperature, stirring occasionally. Once cooled, spoon half of the glaze evenly over the berries. For more finessed coverage, use a silicone pastry brush to brush the tips of the berries with the glaze. Reserve remaining glaze for another use (or eat it all up!). Cover and chill for 3 hours.
Notes
Slightly adapted from a Cooking Light recipe.