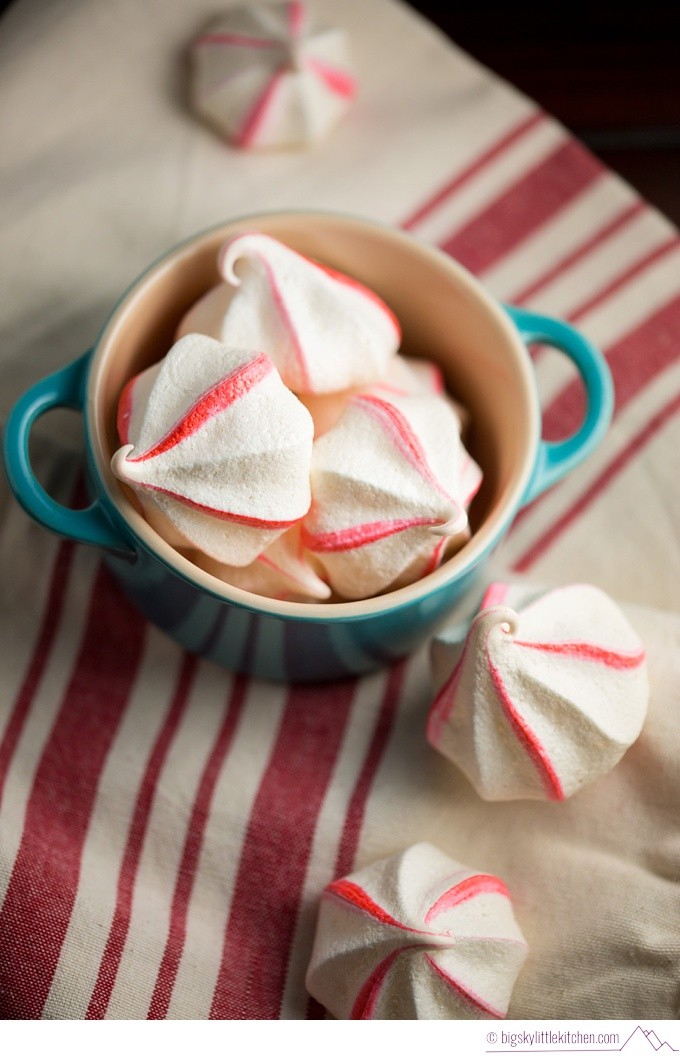 Oh dearie me – it's been a while since this blog has seen some love. Suffice it to say, I've been busy running the photography business, and that's never a bad thing of course. But as the season slows down a bit, and as I get back into baking mode and sharing those baked goods with friends and neighbors, I've got a little more time to dedicate to sharing some of my favorite recipes here too. These easy peppermint meringue cookies are actually new to me – but they're so quick to whip up, and so pretty, that they'll definitely remain in my holiday season cookie arsenal.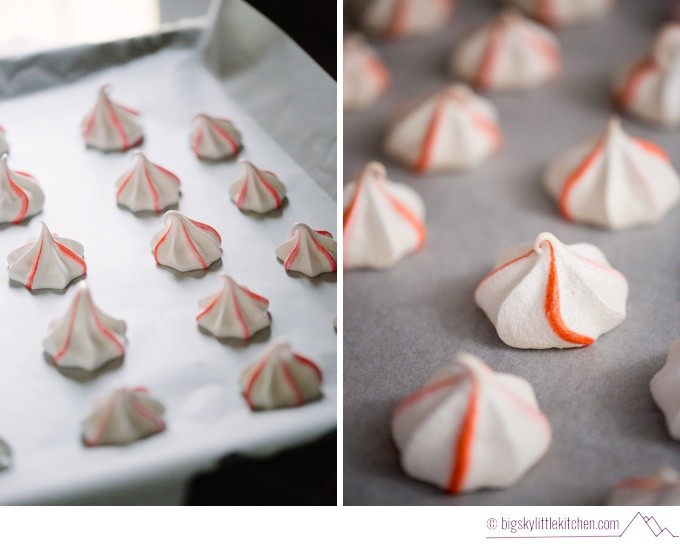 I think my favorite thing about these is the happy little stripes, though. I mean, just look at how cute they are! The nice thing about this effect is that it's as simple as striping the inside of your piping bag with some red gel food coloring. The first few meringues you pipe will likely not have these stripes showing, but after the first few, the stripe effect really begins to appear. To stripe my large piping bag, I just dipped a long, bamboo skewer into some red gel food coloring and then dragged the skewer up four sides of the piping bag (you could also use a clean paintbrush for this, but I was sans brush). The thicker the stripes are, the thicker they'll be on your meringues. (Mine were pretty thin stripes.)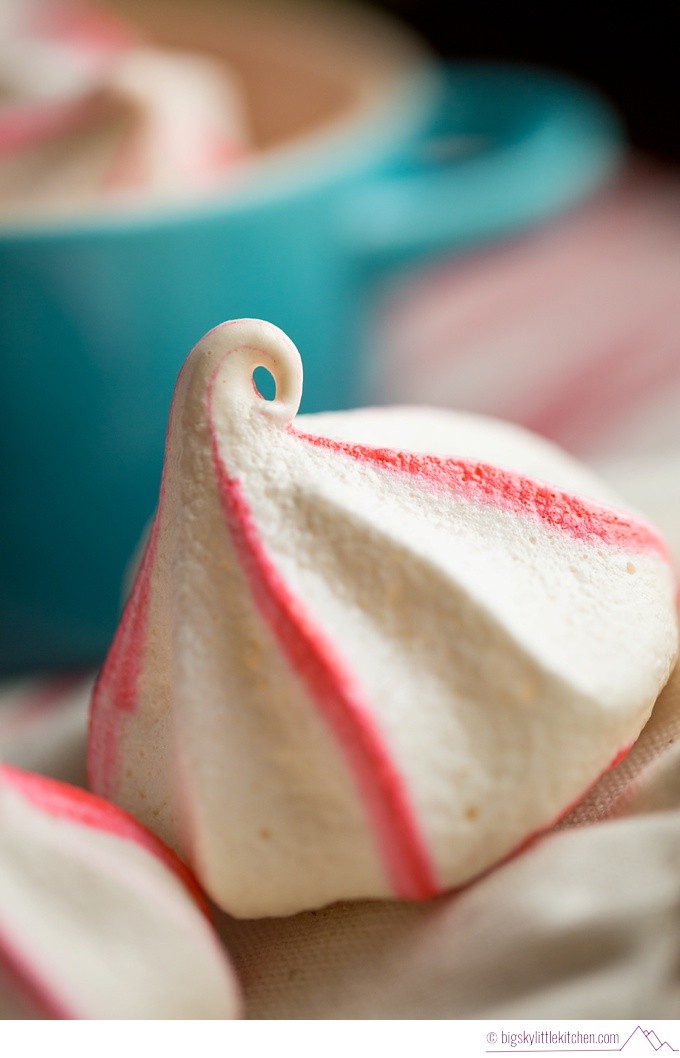 I made my meringue cookies about an inch to an inch and a half in diameter and piped them onto two baking sheets lined with parchment paper. I used a large, open star piping tip (also known as a "pastry tube") to help create the ridge effect on the cookies.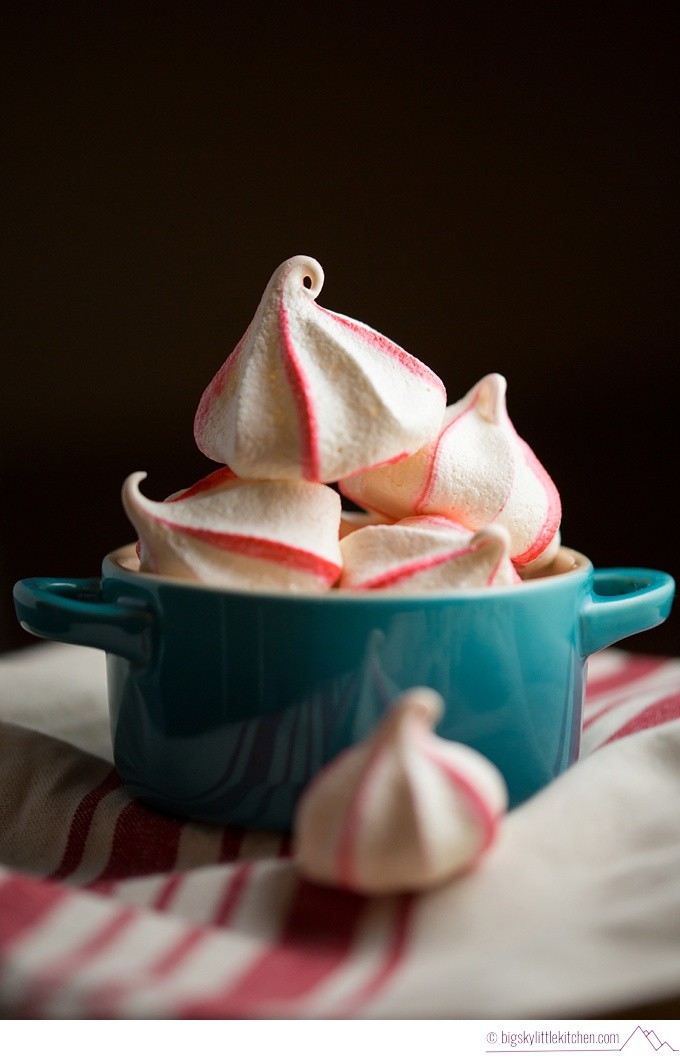 It's important to note that to infuse these with peppermint flavor, you'll want to use peppermint extract, NOT peppermint oil. Any oils or residual grease in your mixing bowl when whipping up the egg whites will have a detrimental effect on your desired outcome (i.e. you'll likely not be able to get any sort of "fluff" to your whites at all). I know some folks who wipe both their mixing bowl and wire whisk with lemon juice prior to making meringue to make absolutely sure all oils have been removed (not a bad idea).
To increase the ease in successfully whipping your egg whites, it's also helpful to have the whites at room temperature before starting the process, though it's not absolutely necessary. (I was impatient with these and used pretty cold whites, and things still whipped up just fine.)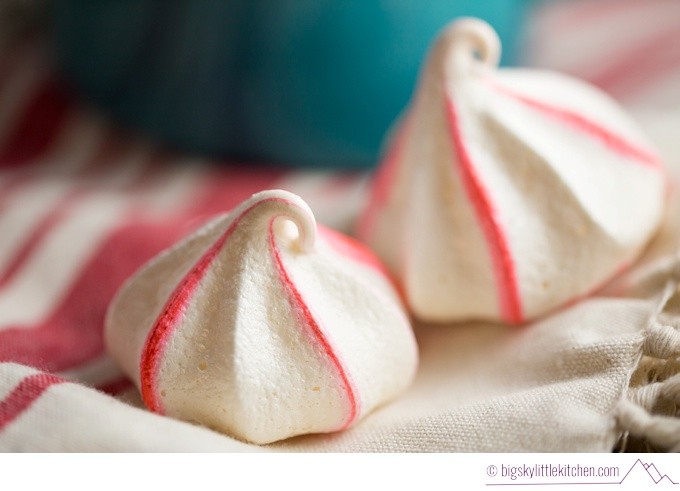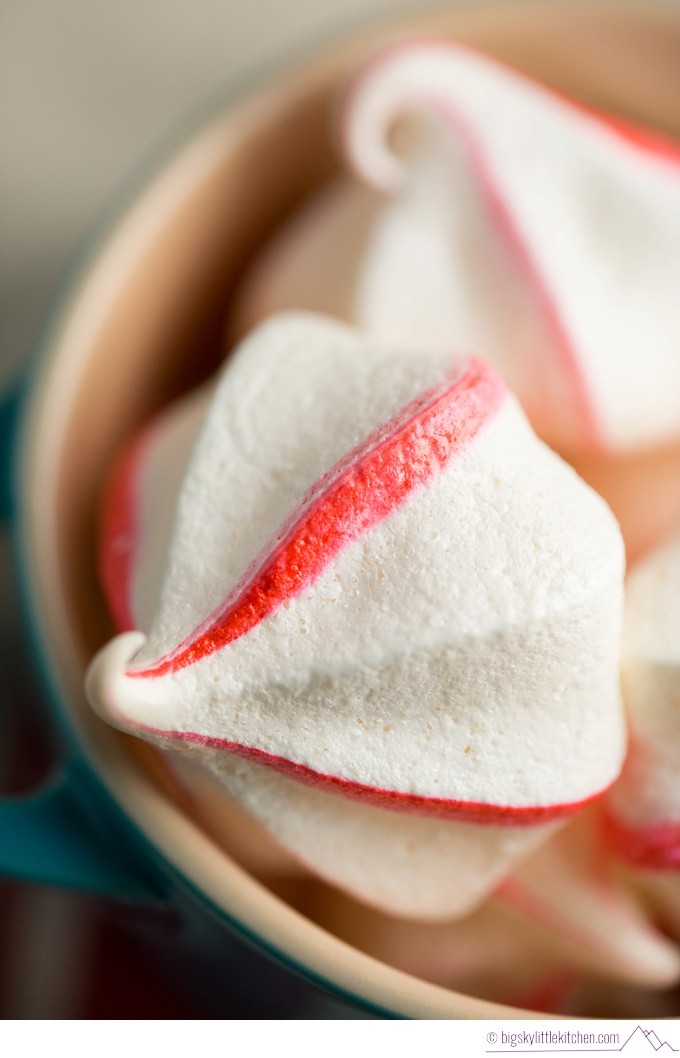 Once these darling little cookies come out of the oven (make sure you don't let them brown), they'll cool quickly, and will give you the most delightful, airy crunch. These meringues can be stored in an airtight container for a week or two, but I'm willing to bet they'll be devoured way before the two week mark.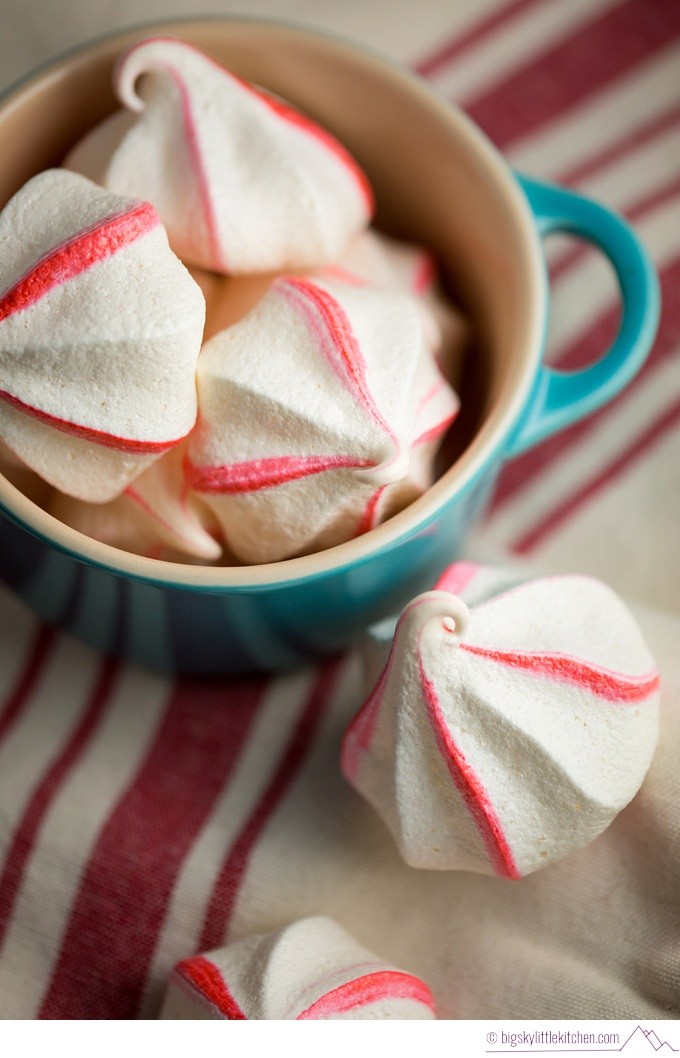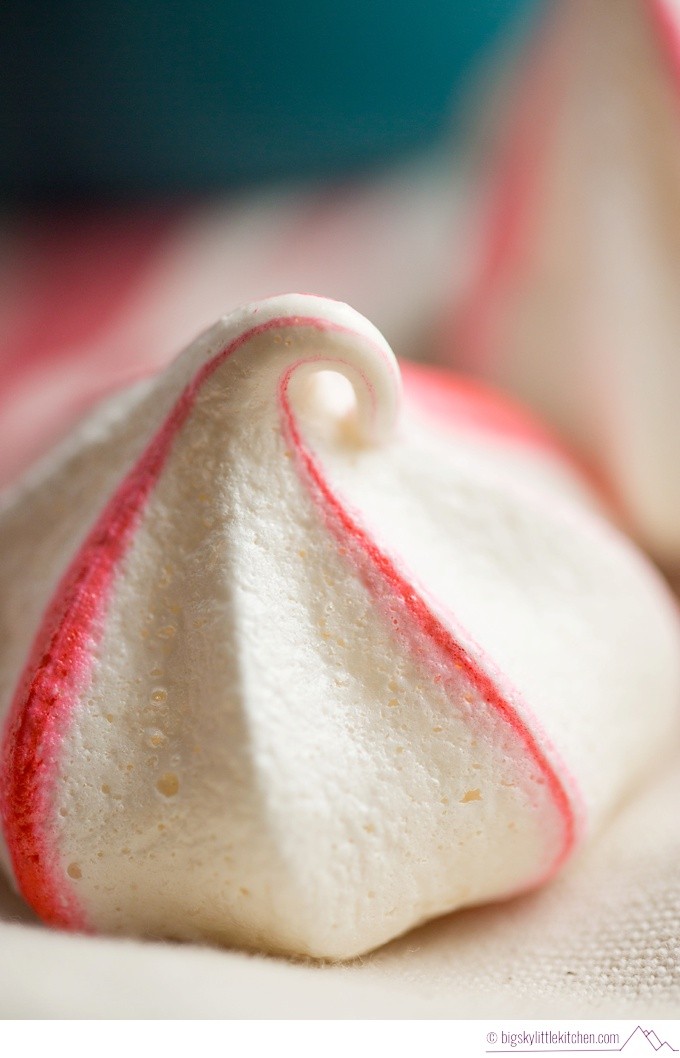 Last, but not least, this recipe requires three egg whites, which means you'll have three egg yolks leftover. What to do with those? Save them for my Creme Brulee for Two recipe coming your way soon!

Easy Peppermint Meringue Cookies
Author:
Big Sky, Little Kitchen
Ingredients
3 large egg whites (ideally at room temperature)
¼ teaspoon cream of tartar
¼ teaspoon peppermint extract (do NOT use peppermint oil!)
a dash of salt
¾ cup granulated sugar
Instructions
Preheat your oven to 225 degrees F. Line one or two large baking sheets with parchment paper and set aside (I used two). Prep your large piping bag with red stripes by painting vertical stripes up the inside of the bag with red gel food coloring.
In the bowl of a stand mixer, beat the egg whites, ¼ teaspoon cream of tartar, a dash of salt, and ¼ teaspoon peppermint extract until soft peaks form. Slowly add ¾ cup sugar, and keep beating at high speed until stiff peaks form.
Fill your large pastry bag with the meringue mixture and pipe 1-inch rounds onto the parchment paper.
Bake for 75 to 90 minutes (mine were done at 75 and probably could have been taken out sooner than that), but watch the cookies so as to not let them brown. Remove the cookies and allow to cool completely. Meringues will be crunchy. Store the cookies in an airtight container, and use before two weeks.