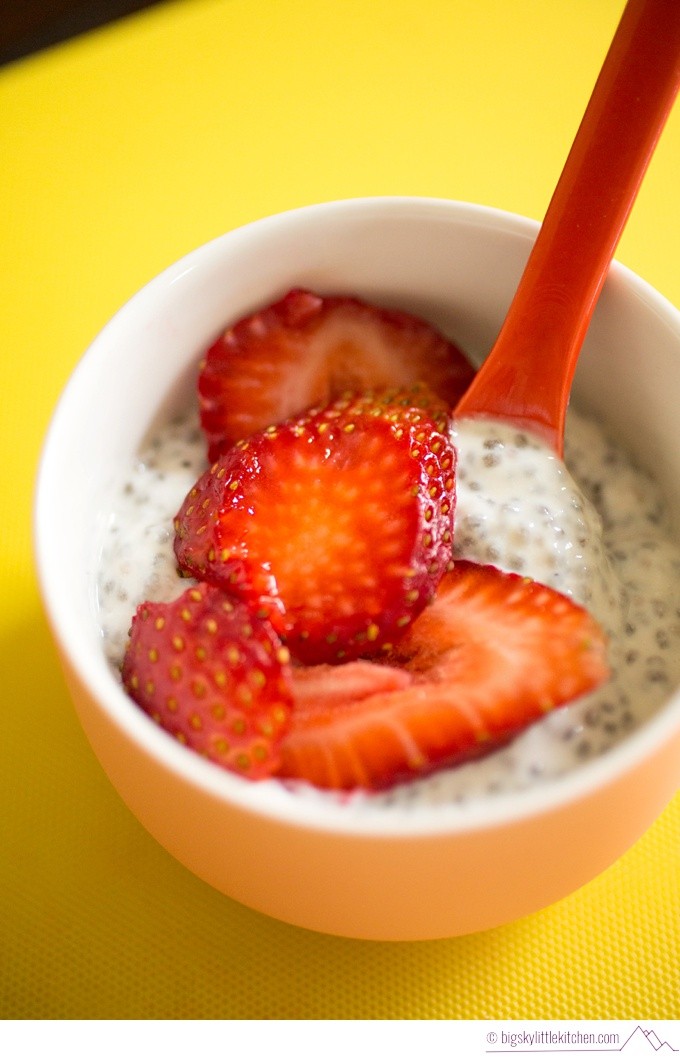 I have a decidedly wicked sweet tooth, so when I come across recipes that satisfy my craving for sweets in a pretty healthful way like this coconut chia seed pudding with strawberries, then you can bet your boots I'll be shouting across the mountaintops about it.
To knock it out of the park, this recipe is easy and really quick to put together. You just have to exercise a little patience as you wait for those magical little chia seeds to set overnight.
But oooooh, let me tell you. The wait is definitely worth it.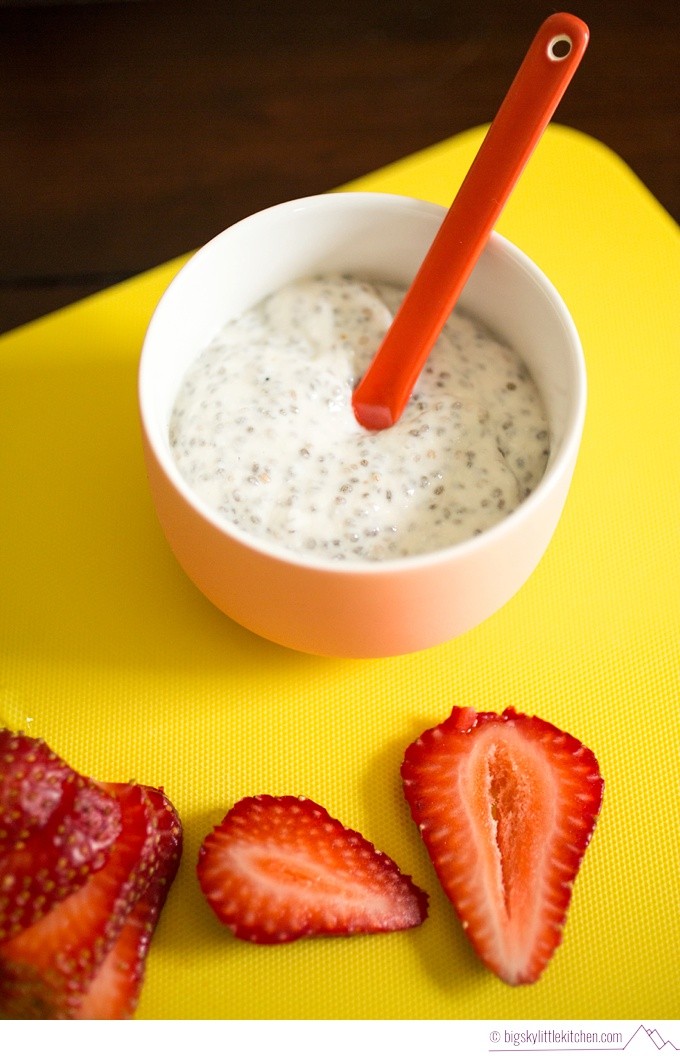 Because this pudding features coconut milk that's low in calories (I call for something along the lines of what Silk offers, not the coconut milk from a can, though you could certainly use this – it'd just add some fat) and non-fat greek yogurt, you can even indulge in this for breakfast.
I can tell you, this makes for a great treat to wake up to in the morning – especially if, like me, you're absolutely NOT a morning person. Those fresh strawberries and the creaminess of this pudding are just the perfect way to get you going for the day.
This recipe serves about four, but I can assure you you'll probably want to double it, as it tends to disappear quickly it's just that good.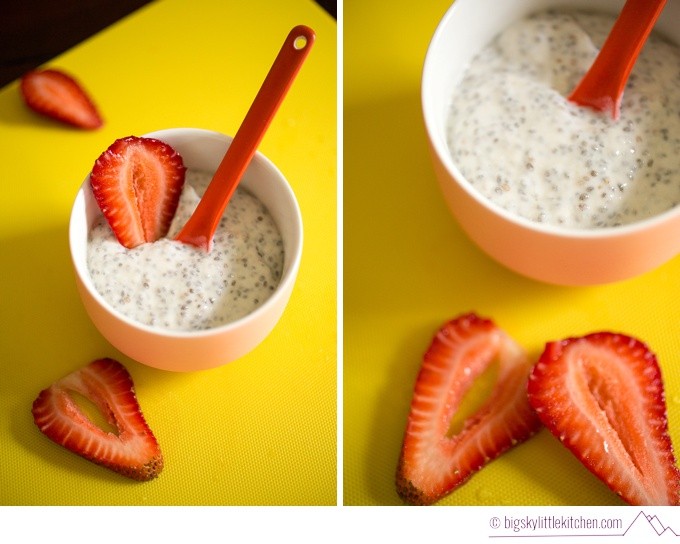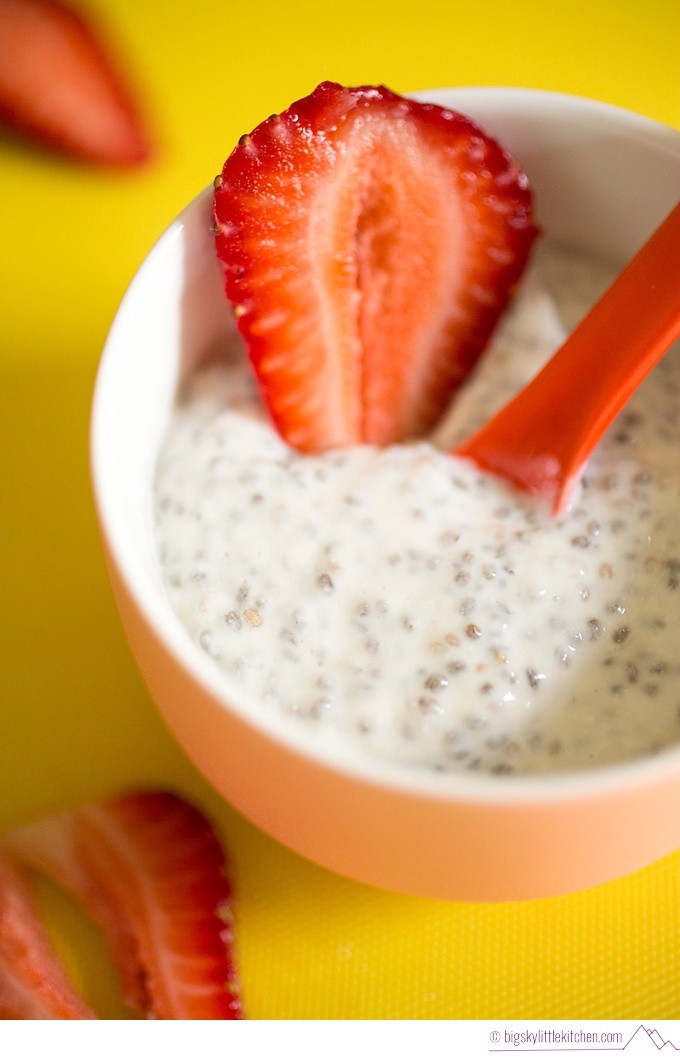 Coconut Chia Seed Pudding with Strawberries
Ingredients
1 cup unflavored coconut milk
1 cup plain non-fat Greek yogurt
2 tablespoons pure maple syrup
1 teaspoon pure vanilla extract
⅛ teaspoon Kosher salt
¼ cup chia seeds
6 to 8 large strawberries, hulled and chopped or sliced
Instructions
In a medium-size bowl combine the coconut milk, yogurt, maple syrup, vanilla and salt. Whisk gently until blended and creamy. Add in the chia seeds and whisk until coated and combined.
Let stand at room temperature for 30 minutes. If you feel the seeds have settled into the mixture a bit, stir to redistribute. Cover and refrigerate overnight.
The next day, prepare your strawberries. Spoon the pudding mixture into four bowls or glasses and top with even amounts of strawberries and serve.
Nutrition Information
Serving size:
1
Calories:
161
Fat:
4.5g
Saturated fat:
1.3g
Unsaturated fat:
2.6 g
Trans fat:
0g
Carbohydrates:
20.1g
Sugar:
11.6g
Sodium:
155mg
Fiber:
6g
Protein:
9.4g
Cholesterol:
2.5mg