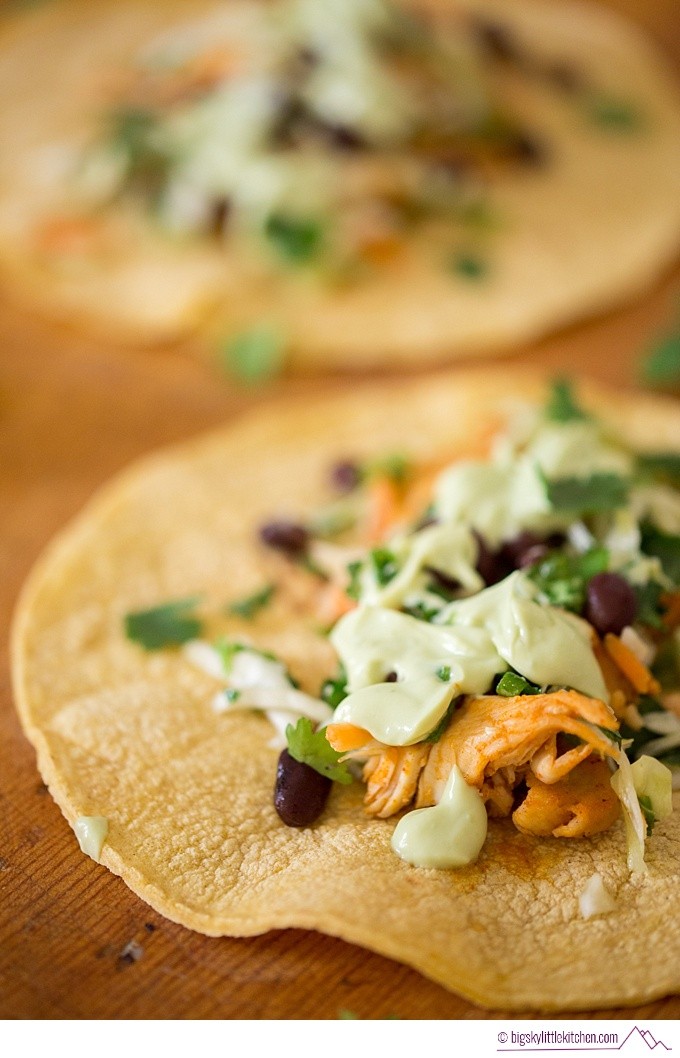 Once again, life gets away from me and I haven't been able to post on here as much as I'd prefer. I've also been in a bit of a slump recipe-wise. You know…the kind where you make a meal and it's just sort of lacking somehow and all you can do is utter a resouding, "Meh." Thankfully, that's turned right around with these Chipotle Spice Chicken Tacos with Cilantro Slaw and Avocado Cream. An about face, really!
I made these last night, and I canNOT get enough of them, despite the fact that they are tacos and are somewhat messy to eat (I tend to avoid messy things, which is really pretty silly of me). In my opinion, these tacos embody everything that really makes a recipe shine – they're easy, they're quick to make, they're healthy (gluten-free, too!), they deliver a satisfying crunch of texture, they're filling yet light, and they make my spice-loving self giddy.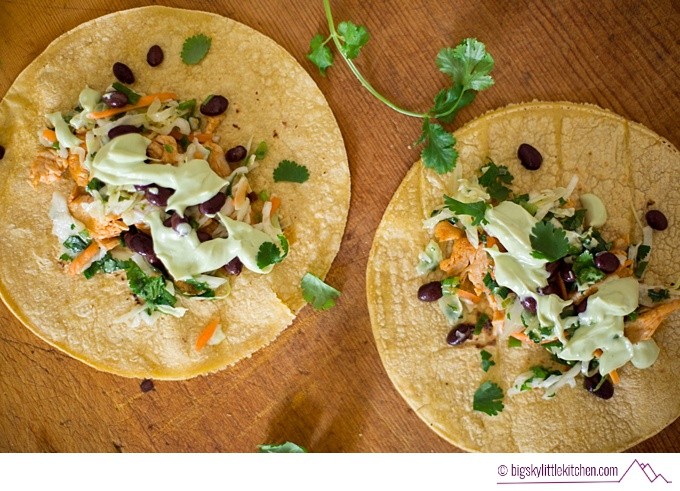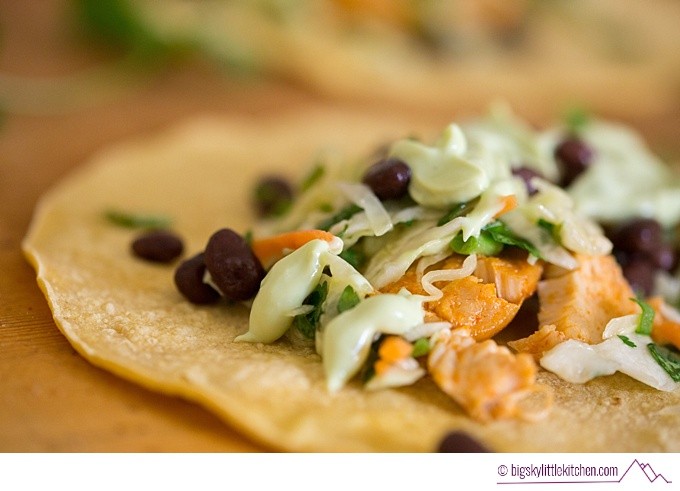 Spice, to me, is essential in a good recipe. Without spices to take regular ingredients to the next level, I'm left with that unsatisfied "meh" feeling. But this…this recipe is full of robust flavor. The chipotle spice is a little sweet, a little smoky, with just a hint of heat. And yes – it's specifically chipotle chili pepper powder you want to use here. Regular chili powder is often a blend of spices. Typically in the blend you'll get chilis (however, you often won't know what kind of pepper is included), cumin, oregano, garlic and salt. And while that may work in a pinch, it's nice to use straight up chipotle chili pepper powder that's unadulterated by those other spices.
It's worth mentioning, too, that the heat from the chipotle chili pepper powder is tempered by the addition of the avocado cream, so if you prefer more heat in your meals, then I'd suggest cutting the chipotle powder with a little cayenne to amp up the heat level.
Which leads me to…that avocado cream. You'll start out making this first, and ohhhhh – is it ever-so-delicious, so refreshing, so light and pleasantly tangy. I'm a bit of a lime-lover, so I tend to splash a little more lime juice and a little more lime zest than called for into my recipes. Not *too* much more, though, or that pleasant tang can overpower the other flavors of this dish.
Once you've made the avocado cream, you can prep the cilantro slaw, which is also bright, light and happy, and really adds a satisfying crunch to the tacos. I just used a pre-made slaw base to keep this on the quick and easy side, but you can make your own from scratch, too. I again splashed a little more lime juice than called for into the slaw and added a generous dose of cilantro, a dash of green onions, and, holy moly – I lurrrve it.
Once you've got your avocado cream and slaw created and ready to go, go ahead and start working on your chicken. Sprinkle the spices evenly over the 1/4″ strips you've cut from the breast, pop them into a toasty-hot pan lightly coated with olive oil, and sizzle away for about 4 minutes or so as you stir and flip the chicken pieces frequently. You'll likely want to cook your chicken in two batches, so be sure to keep the first batch warm by tenting it with foil as you finish up the rest.
Tent all the chicken once you've completed cooking it, and get your tortillas warm and ready to go. There are a few options – you can microwave them along with a damp paper towel, you can dry toast them in a hot, dry pan (this will add just the slightest crunch, so if you like that, go for it!), or you can directly toast them over an open flame on your stovetop. I prefer this method and turn my flame onto a medium-low setting, set the tortilla directly over the flame (and on the stove top grate) for about 30 seconds each side, shifting it around a bit so it can evenly warm and lightly char the surface. After you've warmed and toasted your tortillas, you'll want to prevent heat loss by gently wrapping them in a clean dish towel.
Then, it's assembly time! A serving of these chipotle spice chicken tacos with cilantro slaw and avocado cream is about two tacos, so get everything ready to go, add a few pieces of chicken, add a few tablespoons of slaw, add about a tablespoon of avocado cream and sprinkle with a few rinsed and drained black beans. Voila – dig in!
(P.S. If you don't eat all the servings for this recipe in one go, it makes for great, fast leftovers, too. Just heat your chicken separately, get your tortillas toasted and assemble. Easy as pie!)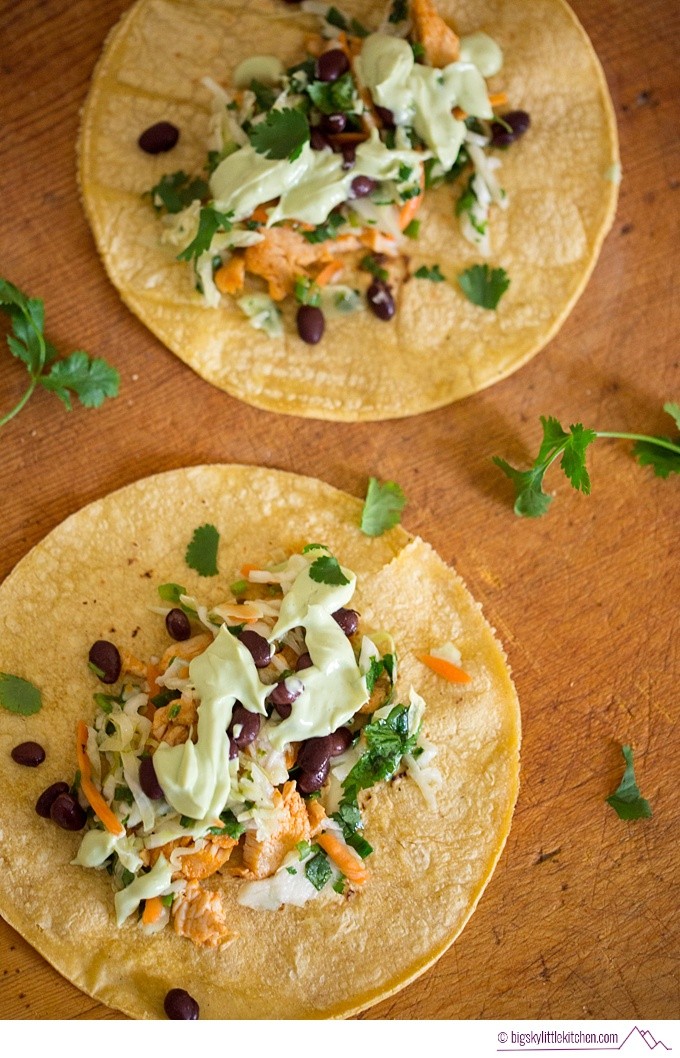 Chipotle Spice Chicken Tacos with Cilantro Slaw and Avocado Cream
Author:
Big Sky, Little Kitchen
Makes:
16 tacos (8 servings)
Ingredients
Avocado Cream
¼ to ½ teaspoon grated lime rind (or grate about half a lime)
2 tablespoons fresh lime juice
½ cup non-fat, plain Greek yogurt
4 tablespoons plain, unsweetened coconut milk - not from a can, but from a carton (like Silk)
1 ripe, peeled avocado, diced
Cilantro Slaw
4 cups packaged slaw
1 cup thinly sliced green onion
½ cup chopped fresh cilantro
2 tablespoons olive oil
2 tablespoons fresh lime juice
½ teaspoon salt
Chipotle Spice Chicken
2 pounds skinless, boneless chicken breasts, cut into ¼-inch strips
1½ teaspoons chipotle chili pepper powder
1 teaspoon garlic powder
½ teaspoon salt
½ teaspoon cumin
2 tablespoons olive oil
Beans
1 can, rinsed and drained black beans
Tortillas
16, 6-inch corn tortillas
Instructions
For the avocado cream, combine lime juice, lime zest, yogurt, coconut milk and avocado in a blender, food processor or immersion blender, and process until smooth. Set aside.
For the cilantro slaw, combine slaw, green onion, cilantro, olive oil, lime juice and salt in a medium-sized bowl, and toss to coat. Set aside.
For the chicken, heat a large saute pan over medium-high to high heat.
Combine chipotle chili powder, garlic powder, salt and cumin in a small bowl and whisk to combine.
Sprinkle the chicken with the seasoning mixture.
Add olive oil to pan and swirl to coat.
Add about half the chicken to the pan and cook for 4 minutes, stirring frequently, and flipping the chicken about halfway through. Remove and keep warm with foil tent. Repeat this for remaining chicken.
Heat the corn tortillas either via dry toasting in a dry pan, via microwave along with a damp paper towel, or directly over an open flame. To keep tortillas warm until ready to serve and assemble, place in a clean dishtowel and loosely cover.
Divide the chicken mixture evenly among the tortillas. Top each with ¼ cup slaw mixture, 1 tablespoon avocado cream, and 1 tablespoon black beans, and serve.
Notes
Regular, low-fat or non-fat milk can be used in place of coconut milk in a carton.
Light sour cream can be used in place of the Greek yogurt.
If you'd like more heat in your tacos, I suggest cutting a bit of the chipotle spice with cayenne to amp it up a bit more.