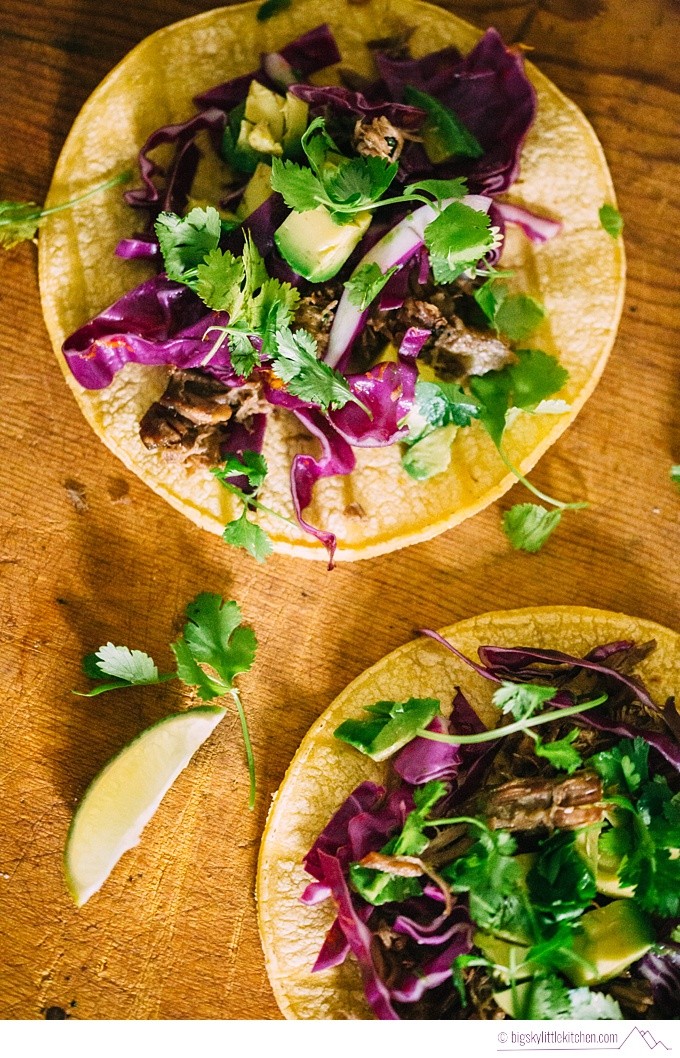 It appears as though I've been on a bit of a taco kick lately. But I swear, I can't help it. When springtime's in the air (heck, summertime with the weather we've been experiencing lately), I just crave easy, bright foods with lots of flavor. Enter these fabulous Carnitas Tacos with Red Cabbage Citrus Slaw. So yummy, so good, so flipping easy.
All it requires is a bit of time to make – but it's mostly hands off. You sear the pork, add a few spices and water, and then simmer away. While the pork shoulder is slowly tenderizing via a slow braise and while you prep the slaw, you can spend that time catching up on This American Life, which I find to always be a wonderful cooking companion when it's just me in the kitchen. This episode featured a few excerpts from a podcast called "Beautiful Stories from Anonymous People," which really struck a chord with me. Have any of you listened to that podcast yet? I think I'm a new fan. I can't wait to listen to more of it.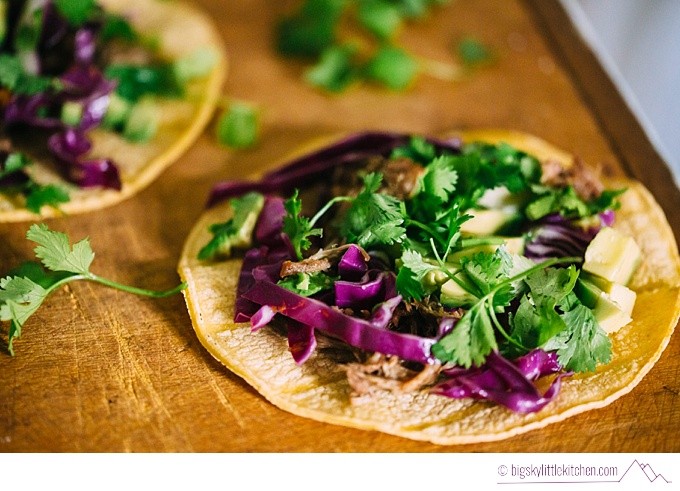 Anyway…I digress. Try not to get too distracted by the radio, and as the pork simmers in the oven, enjoy the aroma of the cinnamon wafting through the air.
To be honest, when I first made this recipe, I was a little skeptical of the addition of the cinnamon to the spice mixture. To me cinnamon is a sweet flavor, and not something I'm a huge fan of in savory dishes. (I've had some East Indian meals that I think overdid it on the cinnamon and spoiled all the rest of the marvelous flavors.) But the spices in these pork carnitas are so balanced that it just enhances the fantastic savory flavors that are already there. The added benefit is that your house will smell lovely and cinnamon-y as the oven works its magic.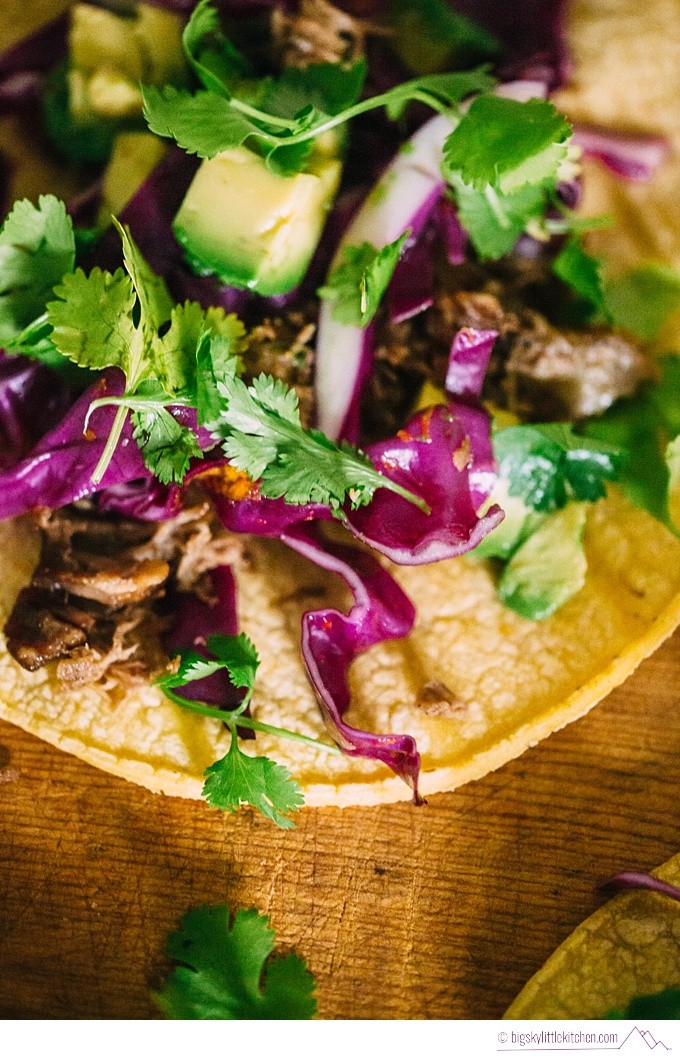 The cabbage slaw also adds a great "crunch" component, which is something I think I'm always seeking out in recipes. And, if you're into color and vibrancy, then the rich purple of the red cabbage will not leave you wanting. My grandma would be happy with this dish. (She always aims for a rainbow of colors at each meal – and I'm going to say that's served her well as she's 91 and going strong!)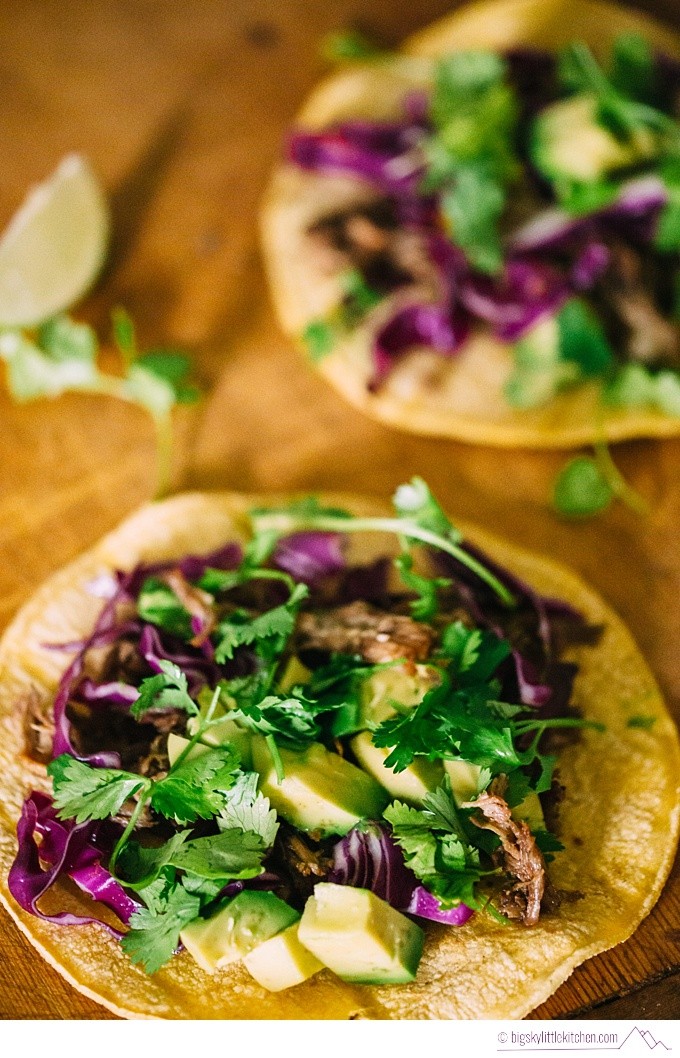 This recipe will make a hefty amount, great for multiple servings to multiple people, or enough for many happy nights of leftovers for dinner. Everything is best served fresh and hot from the oven, but this also holds up well to reheating. Just make sure not to overheat the carnitas, which will leave things a little dry and not as tender as its initial straight-from-the-oven bliss.

Carnitas Tacos with Red Cabbage Citrus Slaw
Author:
Big Sky, Little Kitchen
Ingredients
4 lbs boneless pork shoulder, cut into 4-inch chunks, trimmed of excess fat (or bone-in...just remove the bone)
salt
2 tablespoons oil
1 teaspoon cinnamon
2 teaspoons chili powder
½ teaspoon cumin
2 bay leaves
5 cloves garlic, sliced
1 small head or half a large head of red cabbage, shredded
1 small orange, juiced and zested
olive oil
corn tortillas, toasted
chopped avocado
fresh cilantro
lime wedges
Instructions
Sprinkle and rub the pork with the salt. Add oil to a large ovenproof pot or dutch oven, and heat over medium high heat. Sear the pork in batches until it's browned on all sides.
Preheat the oven to 375 degrees. Make sure all pork has been added back to the dutch oven. To that, add in the spices, bay leaves and garlic. Stir to distribute. Cover the meat ⅔ of the way up with water. (For reference, I used about 12 cups of water.) Bring to a boil on the stove. Once your mixture begins to boil, place the entire mixture into the oven, and leave the pot uncovered. Cook 3 ½ to 4 hours (I cooked mine for 4 hours), checking the pork every hour to give it a stir and assess the water level. If the pot starts drying out, add a little more water (you will likely not run into this issue). Remove the pot from the oven when the pork is tender and falling apart.
Toss the shredded cabbage with orange juice, orange zest, a drizzle of olive oil, and salt to taste. Serve the carnitas in a toasted corn tortilla (I toast mine straight over my open stove flame), along with the cabbage slaw, some fresh avocado chunks, fresh cilantro sprigs and a squeeze of fresh lime juice.