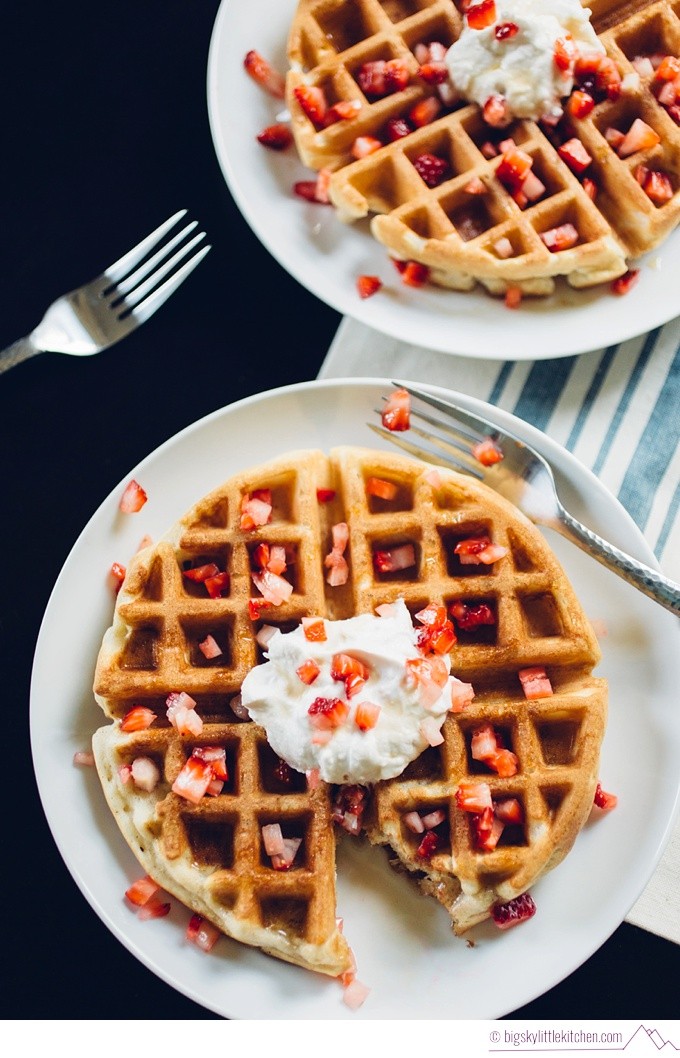 I'm usually more of a savory-for-breakfast kind of girl, but sometimes you have to go a little decadent and splurge on some good ol' crispy-on-the-outside, warm-and-soft-on-the-inside belgian waffles with coconut whipped cream and strawberries.
And waffles are just fun to make and eat. As a kid I remember having a blast filling the iron and then, once the waffles were ready to be devoured, trying to get every little square filled with maple syrup and butter, pretending I was eating a syrup lake with lots of mini moats. Oh to be a kid!
I found that when making these waffles, I didn't need to grease my waffle-maker, but if your iron sometimes has troubles with the final waffle sticking to the inside, then you might want to grease it before each addition of batter.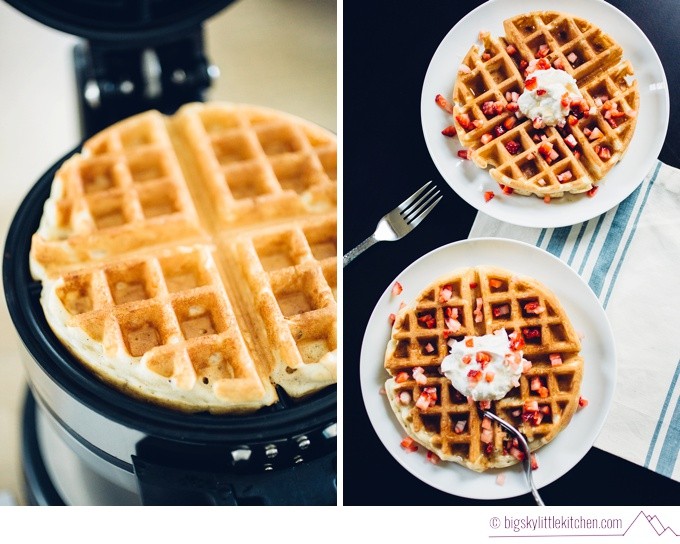 Instead of topping these waffles with butter, I've opted for a lovely dollop of coconut whipped cream. If you'd like to do this, too, you'll want to plan ahead to make sure your whipped cream is ready to use in the morning (or whenever you choose to serve these – I'm a *huge* fan of breakfast for dinner!).
The coconut whipped cream is made from the solids from a can of full-fat coconut milk. This comes about by refrigerating the can overnight to separate the solid from the liquid and get the cream nice and firm. It's important to note that you'll want to use a coconut milk brand that does NOT use guar gum, and it MUST be full fat. The guar gum prevents the solid and liquid from separating, but we want these two things separated, so avoid the guar gum or you'll run into difficulties making the coconut whipped cream. I used the Sun Luck brand, and it also appears as though the Goya brand would work well too.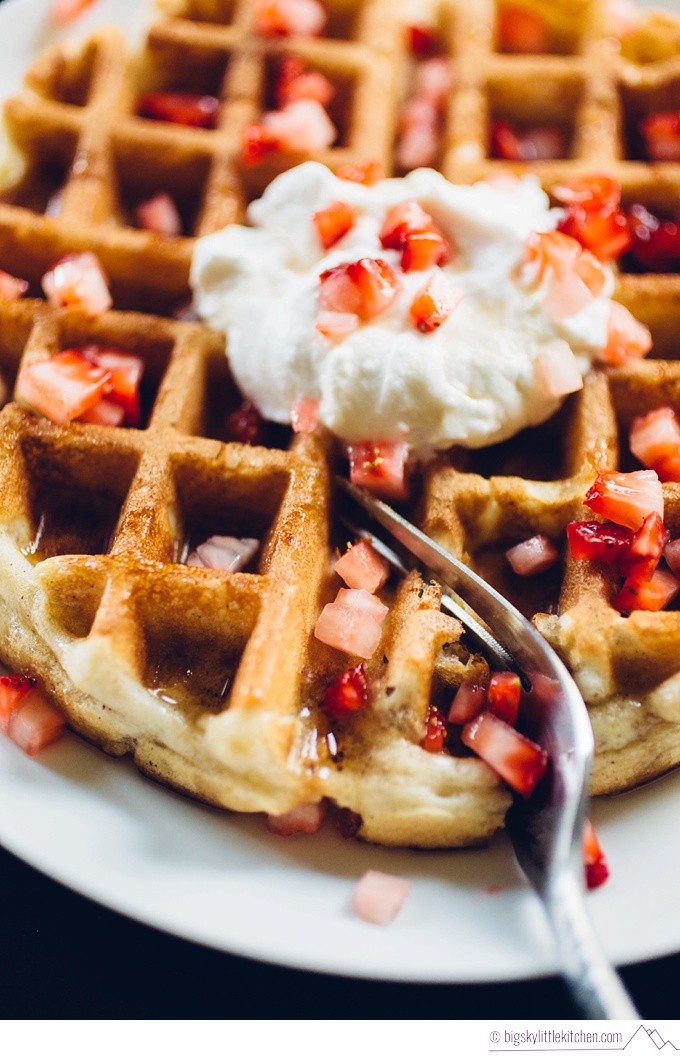 Top everything everything with diced, fresh strawberries (the better to fit in those squares!), and a splash of maple syrup – the real stuff from the trees, no imitations here.
Also, random sidenote – who on earth thought to stick a tap into a tree and drink its sap? I'm forever grateful to the people who have come up with these strange, awesome, and tasty things.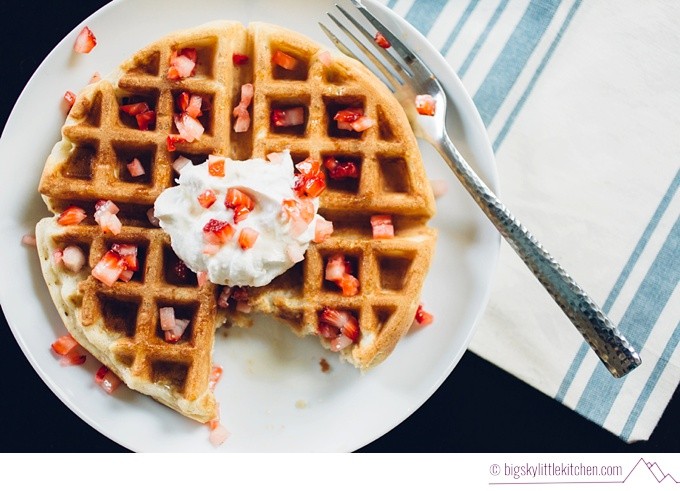 These waffles also boast a little extra flavor from just a hint of two of my favorite spices, nutmeg and cinnamon. However, if you'd rather have a non-spiced and more savory waffle as your vehicle for the coconut cream and strawberries (or whatever else you'd like to top this with), then feel free to leave the spices out. But I tell you – they taste great in this mixture!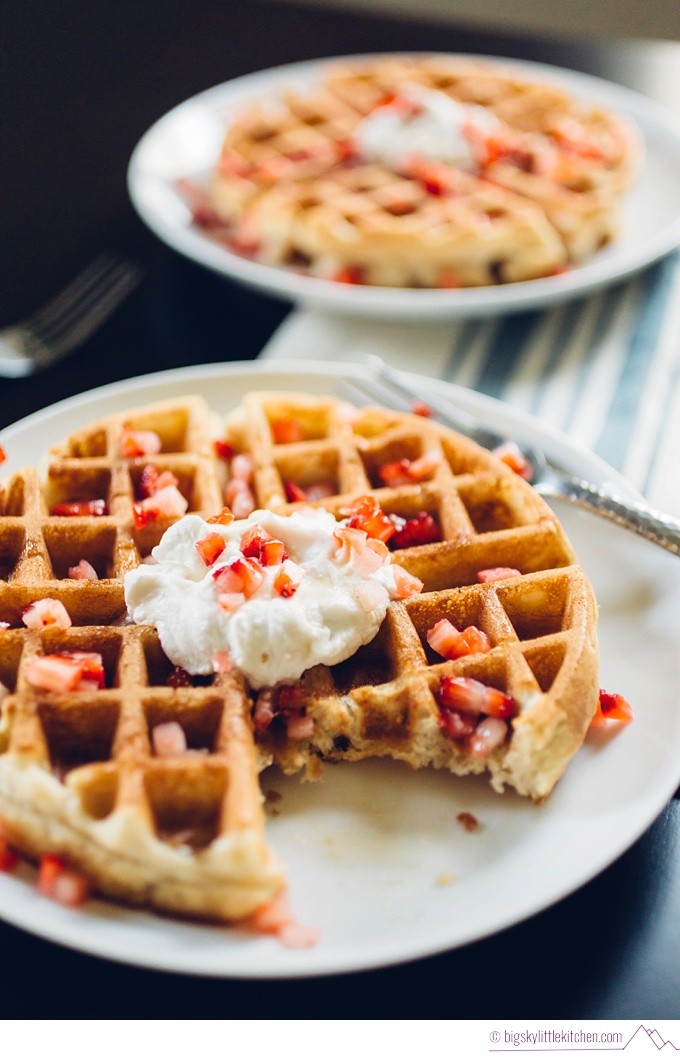 Make sure to serve these babies hot off the waffle iron, but if you find yourself with a few extra, they can easily be reheated in the oven or a toaster oven for a few minutes to bring back that crisp outside texture.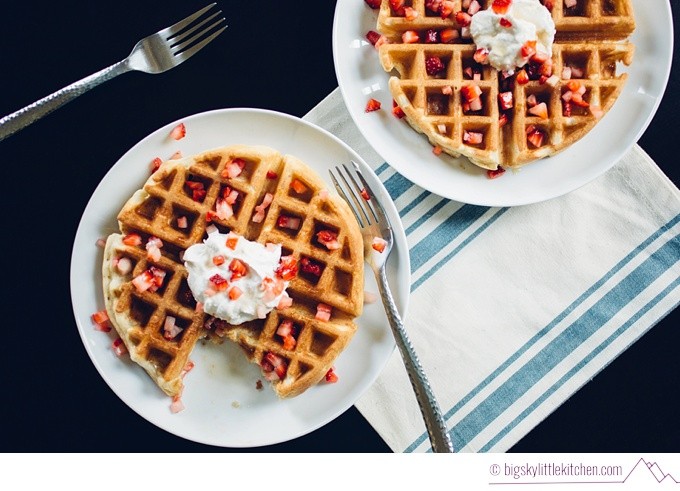 And enjoy! Justify all this decadence with a good hike in the mountains, knowing that you've just treated yourself to a solid, and exceptionally tasty energy boost.

Belgian Waffles with Coconut Whipped Cream and Strawberries
Author: Big Sky, Little Kitchen
Barely adapted from Something Swanky and Oh She Glows
Makes:
Approximately 6 belgian-style waffles
Ingredients
For the Waffles:
1¾ cup all-purpose flour
¼ cup corn starch
2 tbsp. sugar
1 tbsp. baking powder
¼ tsp. salt
2 eggs
½ cup almond milk
½ cup heavy cream
¾ cup buttermilk
½ cup cooking oil
1½ tsp. vanilla
⅛ tsp. nutmeg
½ tsp cinnamon
For the Coconut Whipped Cream
1 can full-fat coconut milk without guar gum as an ingredient, chilled overnight
2 tsp. sugar or maple syrup
½ tsp. vanilla
Instructions
For the Waffles:
Get your waffle iron nice and hot and ready to go.
Whisk all of the ingredients together in a large bowl until smooth.
Pour approximately ½ cup batter onto the hot waffle iron, and cook to your preferred darkness, or follow your waffle-maker's instructions.
Serve hot with a dollop of coconut whipped cream, diced fresh strawberries and a splash of real maple syrup.
For the Coconut Whipped Cream:
Ensure your can of full-fat coconut milk has been chilled overnight to make the coconut solids nice and firm.
Remove the can from your fridge and flip it upside down to bring the liquid to the top. Open the can and pour the liquid into a bowl or plastic container for storage. (You can use this later in yummy smoothies!)
Scoop out the firm coconut cream from the can and place it into a medium to large bowl or the bowl of a stand mixer.
Whip the cream until light and fluffy.
Add in your preferred sweetener and vanilla and whip again. Serve with your waffles.
Notes
If you'd rather not use the almond milk, cream and buttermilk in the waffles, you can just use regular milk. But I liked how decadent the cream made this and how the buttermilk added just a bit of tang.

If you don't eat all of these in one sitting, you can reheat your waffles in a 325 degree oven for 5 minutes. Leftover coconut cream stores well in the fridge - just scoop into a bowl and stir or re-whip when ready to use again.