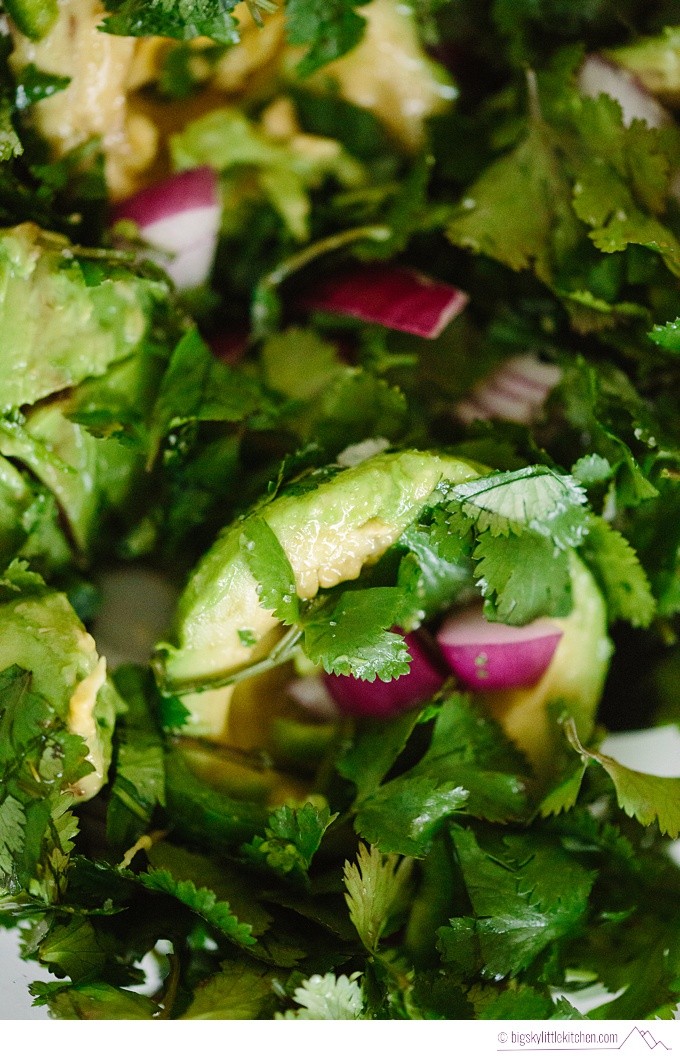 I woke up this morning to several inches of fluffy new snow adorning my house and neighborhood, which I think is pretty near utter perfection. There's barely a green thing in sight and my garden is hibernating under mounds of snow. But all I could think about is just how much I was craving a taste of some bright and spicy guacamole – because nothing says "guacamole time" like feet of snow higher than my front porch, right?
I'm sure my craving for guacamole also has something to do with the fact that the Super Bowl is right around the corner, but that certainly wasn't on my mind as I had to ask a friend, "Is the Super Bowl this coming Sunday?" I could practically hear her thinking, "Why yes, You-Who-Live-Under-a-Rock, of course!" (I don't have cable and don't watch the Super Bowl unless the Packers are in it – wah wahhhh sad trombone noise for their oh-so-close call to making it again.)
Anywho…Super Bowl or not, guacamole was going to be made today. I had several avocados who had not yet sacrificed themselves to some avocado toast, and the cilantro in my fridge was calling out to me. It was time.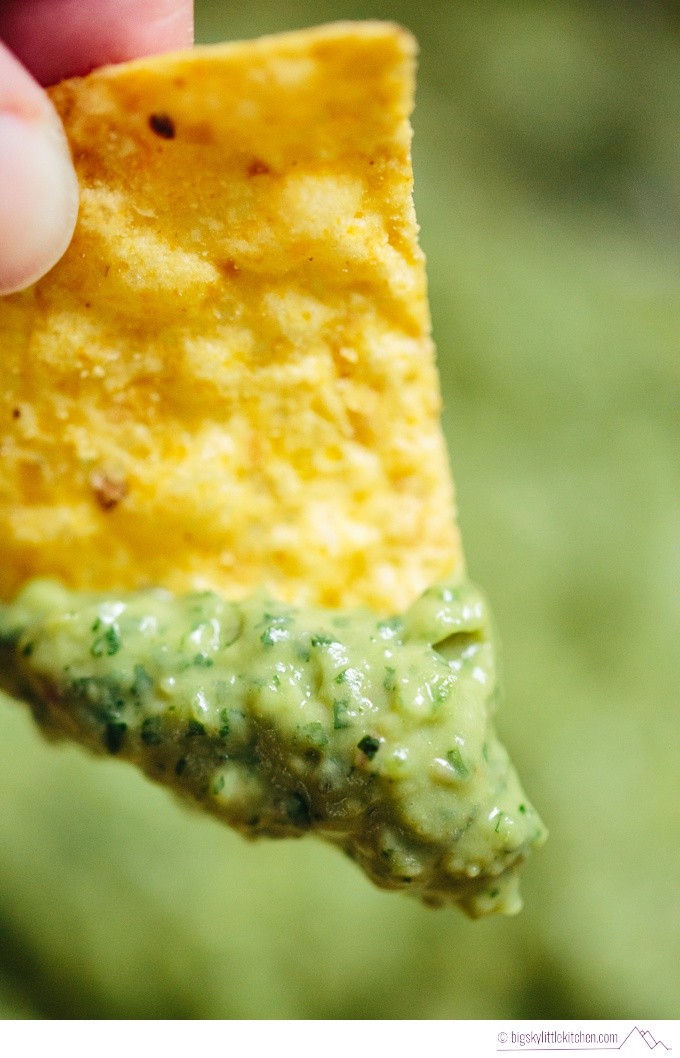 This guacamole is one of my all time favorite recipes. Yes, you probably really don't *need* a recipe for guacamole, but I really dig this one, and wanted to share it with you all, too. It's super simple, can easily be doubled (and probably should be doubled, if not quadrupled, because it's just. that. good), and it's full of fresh, bright flavor that can transport you to breezy summer days, even if you are peering out into feet and feet of beautiful fresh snow.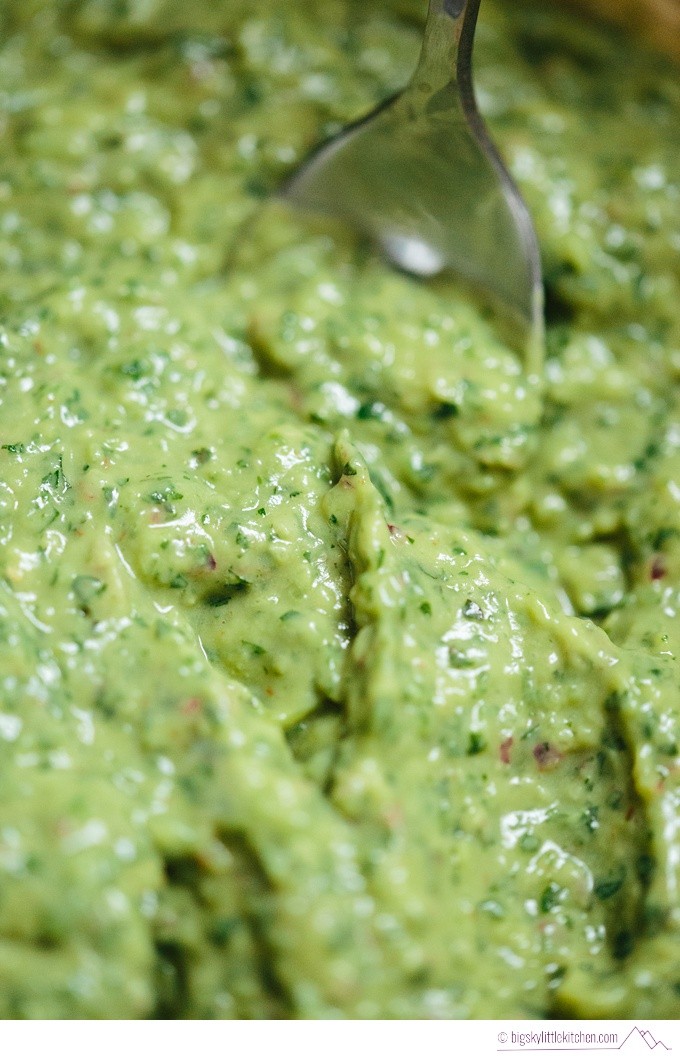 I also adore this recipe because it's got a little kick to it too from the entire jalapeño that hangs out alongside the rest of the ingredients. If you're not a fan of heat in your guac, you can always reduce the amount of jalapeño that's added, or omit it entirely. But it's nothing too terrible if you decide to leave it in. It just adds a little punch, and, to be totally honest here, I like having that extra spice in it to keep me from eating the entire lot of it – plus there are additional health benefits to spice, too.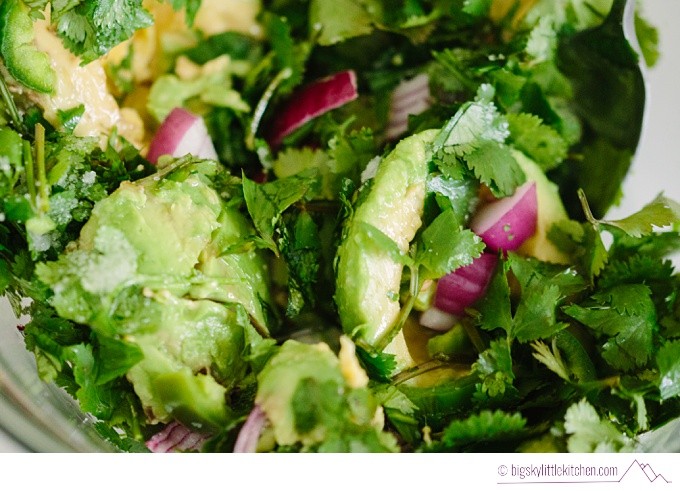 I'm also a huge, HUGE fan of cilantro. While I realize there are basically two camps with regard to the use of cilantro (Those who LOVE it vs. Those who LOATHE it), I fall firmly in the love, love, love it camp. But, if you're a loather, you could also reduce the amount of cilantro in the recipe, or remove it altogether if you truly do hate it. As an interesting side note, if you loathe cilantro (and maybe think it tastes like, egads! soap), did you know it may be a genetic thing that you really can't help? And, as a side note to the side note, that link features a video made by Missoula's own Hank Green – kinda nifty, eh?
So, what are you waiting for? Add a little brightness and spice to your day and whip up a batch or two of this bright and spicy guacamole – fair warning though…you *may* not want to share with others.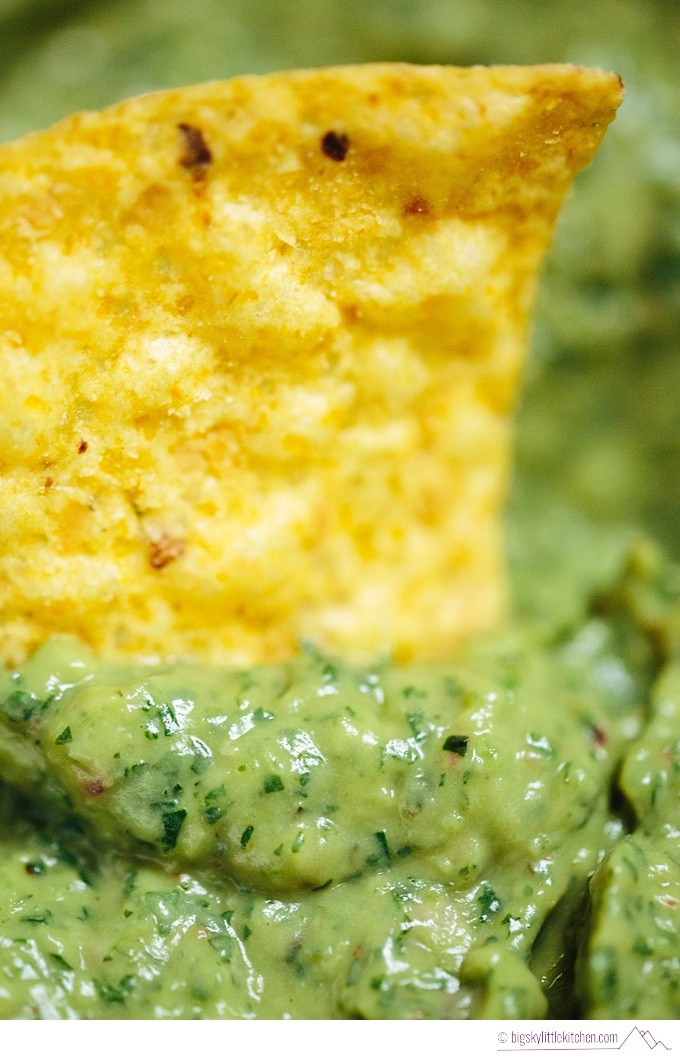 Bright and Spicy Guacamole
Author:
Big Sky, Little Kitchen
Ingredients
2 ripe avocados, peeled and pitted
1½ tablespoons fresh lime juice (about half a lime)
⅔ to 1 cup fresh cilantro, roughly chopped
¼ red onion, roughly diced
1 medium to large jalapeño, deseeded and roughly chopped
½ teaspoon salt
Instructions
Place all ingredients in a small bowl. Use an immersion blender to combine ingredients to your desired consistency.
Store in an airtight container with a layer of plastic wrap placed on top of the surface of the guacamole to ensure maximum freshness. Refrigerate.
Notes
You could also use a food processor to combine your ingredients if you don't have an immersion blender.
If you don't have an immersion blender or a food processor, finely chop all ingredients and then mash and stir together with a fork.
Adapted from a
Food Fanatic
recipe.